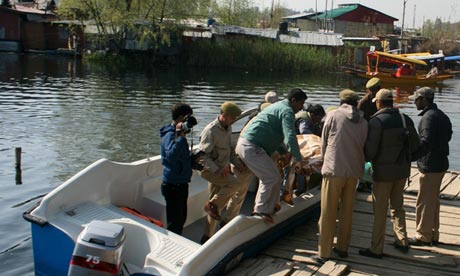 A British woman found dead on a houseboat in Indian-administered
Kashmir
was murdered, police believe.
The 23-year-old was found dead on Saturday at Dal Lake in Srinagar. A Dutch man in his 40s who was staying on the same houseboat was arrested on suspicion of her murder in Qazigund, 45 miles south of Srinagar.
Another man, believed to be the son of the houseboat owner, was also arrested later on Saturday.
The woman has been named as Sarah Groves from Guernsey and the Dutch man as Richard de Wit. The Foreign Office confirmed Groves's identity and that her family had been informed.
According to the
Indian news website NDTV.com
, police say the suspect, who was staying in a separate room on the boat, forced himself into the woman's room on Friday night and assaulted her. The door of the room in which she was staying was found broken.
"The Dutch national had fled from the houseboat in the night, leaving behind his belongings. He was trying to flee from the valley, carrying only his passport. We flashed an alert for his arrest," said Abdul Ghani Mir, the inspector general of Kashmir.
Hafeeza, the owner of the houseboat, told NDTV the woman had been residing on the boat for the past two months and was "like her daughter". She said the suspect arrived two days ago and alleged that he stalked the British woman.
Source