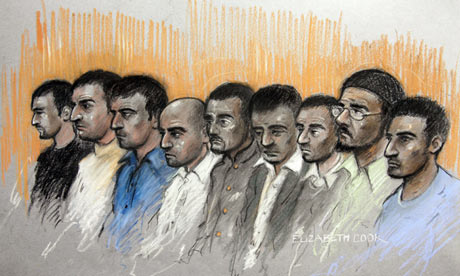 A young woman has told the Old Bailey that when she was 12 years old she was branded with the initial of a man so other men who raped her would know she "belonged" to him.
The jury was earlier told that the woman, now 19, had been sold to the man as an 11-year-old. She told the court that until she was 15 he repeatedly and brutally raped her, organising for other men to have sex with her.
The woman, known as girl D for legal reasons, said on several occasions Mohammed Karrar and his brother Bassam Karrar forced her to have sex with one of them while performing a sex act on the other.
The woman is the fourth witness to give evidence at the
Old Bailey in the trial of nine men accused of offences including rape
, trafficking and child prostitution against children as young as 11 in Oxford.
Appearing in court via video link, the woman struggled to control her emotions on several occasions, fighting back tears and taking deep breaths as she gave her evidence.
She earlier told the court that Mohammed Karrar would rape her in her own home as her parents were deaf. On one occasion after sex she was on her sofa wearing only knickers when he took one of her hairpins, stripped the paint off it with a knife, bent it into a M and heated it up with a lighter. He then burned it into her bottom, she said. "He was branding me so people knew that I was his … if I had to have sex with someone else."
Earlier she described a "honeymoon period" with Mohammed Karrar when she believed he loved her and they were in a romantic relationship. She told the court earlier in the week that she had become pregnant and he had taken her to have an illegal abortion.
She met Mohammed Karrar and his brother Bassam Karrar as an 11-year-old and was forced to have sex with both of them, she said. She described one occasion when she said Mohammed Karrar had followed her into the bathroom and gagged her with her own scarf before raping her.
Knowing he carried a knife in his coat pocket, she grabbed it, she told the court. "I kind of took the knife and threatened him. I said I would stab him but I didn't do anything. He was quite mad with me, even threatening him and taking the knife," she said.
He dragged her to the living room and told the other people there to leave. Then he grabbed a baseball bat, she said. "I was whacked around my head. I remember whistling in my ears, my head felt really heavy and pounded," she said.
When she regained consciousness he was assaulting her with the handle of the baseball bat, she told the court. "I hated him when he done that", she said. "I thought it was my own fault because I shouldn't have threatened him with the knife."
She told the court she had "no choice" but to have sex with the brothers. If she tried to stop Mohammed Karrar "sometimes he would get angry, sometimes give me a guilt trip". Asked how he would react she said he would "shout, hit, or just take it into his own hands".
She described one occasion when he hit her with the back of his hand and she "flew into the sofa". If she refused to have sex "he would force himself upon me, he would whisper in my ear saying you know this is what it's meant to be like, baby, I love you", she said.
Mohammed Karrar had total control over her and would force her to dress up and perform roleplays, she told the court. "If he wanted me to do something I would do it. [He said] If he wanted me to eat shit, I would eat shit."
Mohammed Karrar also organised for other men to have sex with her and took payment for it, the woman told the court. She met other men in hotel rooms or in flats, sometimes alone or in twos and threes, and up to three times a week, she told the court. She was expected to treat the men like "important guests" but said "it was meant to be nice … but I dressed like a slut".
She told the court that on a few occasions she had been able to say no, but more often "they would go mad, or sometimes they would ask very nicely, [saying] 'Please, for me, these are my guests', but eight times out of 10 it was 'You have to do it and you are going to do it'." One man threatened her with a knife before penetrating her with the handle of the weapon, she said. She didn't understand what the men said to each other, as they talked in a different language, but she got the impression they enjoyed scaring her, she told the court.
After the men had left, Mohammed Karrar would force her to have a bath and scrub her so hard that she would, on occasion, bleed, she told the court.
He would say "stuff like I'm a dirty bitch, and I needed to keep clean. Calling me all the names under the sun," she said. He would ask sarcastically if she had enjoyed herself. "He would just make me feel lower and lower and lower, even though it was him making me lower," she told the court.
Kamar Jamil, 27, Akhtar Dogar, 32, Anjum Dogar, 30, Assad Hussain, 32, Mohammed Karrar, 38, Bassam Karrar, 33, Mohammed Hussain, 24, Zeeshan Ahmed, 27, and Bilal Ahmed, 26, face a total of 51 counts between them, including rape, forcing a child into prostitution and trafficking. The men deny all the charges.
It is alleged the men targeted young girls from vulnerable and chaotic backgrounds, and over a period of eight years subjected them to extreme physical and sexual violence, sold some victims for prostitution in Oxford and trafficked others around the country.
The trial continues.
Source